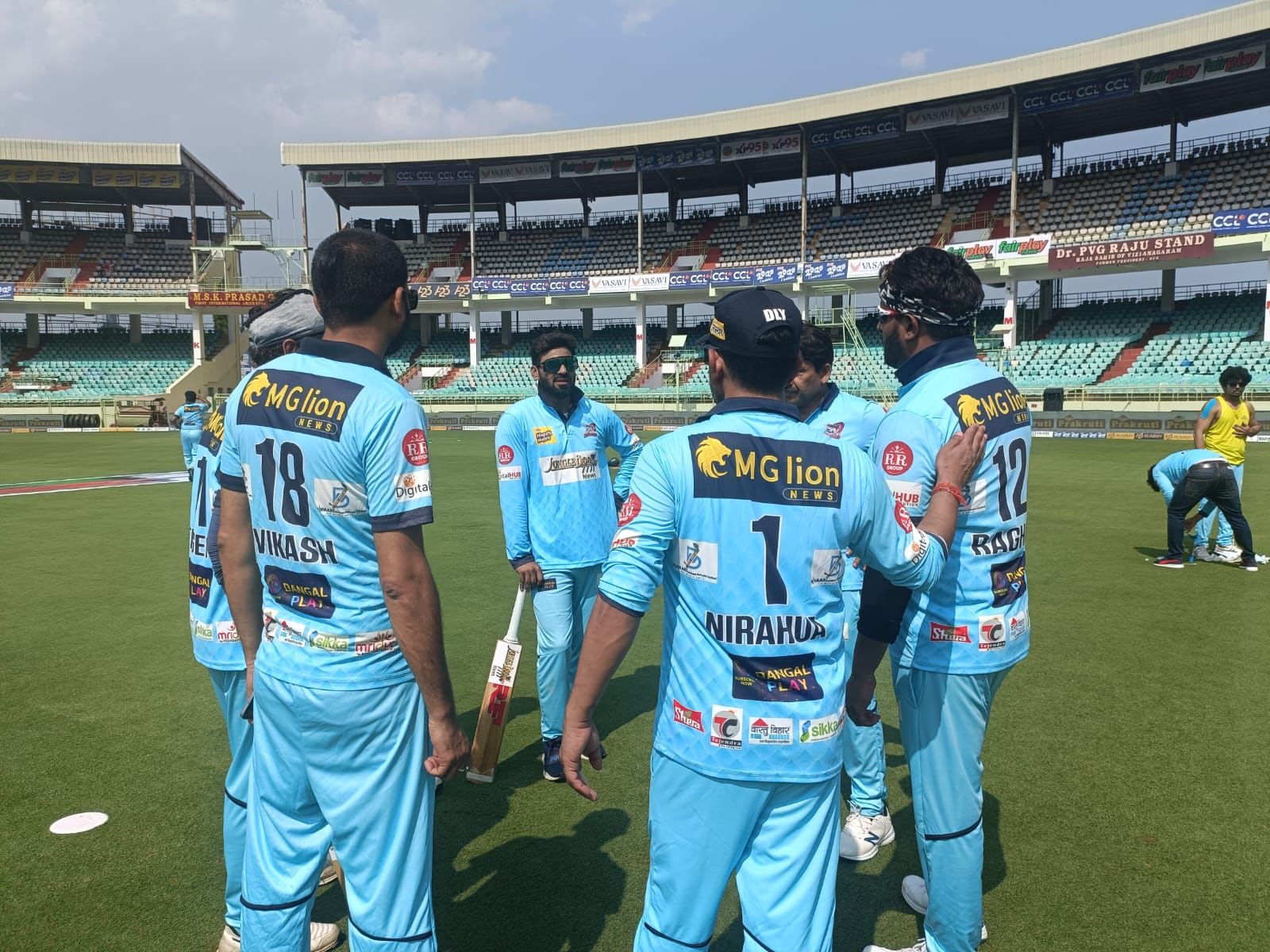 Bhojpuri Dabbangs, a popular and vibrant team in the Celebrity Cricket League featuring legendry actors like Manoj Tiwari, Dinesh Lal Yadav 'Nirahua', and many more, had their best performance in the Celebrity Cricket League 2023. They remained unbeaten throughout the tournament with full gusto and Dabangai spirit till they were outplayed by Telugu Warriors in the title clash at the finals of CCL 2023. MG Lion News was the primary sponsor of Bhojpuri Dabanggs team at CCL 2023.
The Celebrity Cricket League 2023 was played in a new T20 format this year, under the new pattern of two innings of 10-10 overs played by each team. The experiment was new, and it made the tournament a tremendous success with more fun, more cricket, and more glitz. Every match of CCL 2023 enjoyed great viewership and crowds cheering their favourite team. In this fiercely competitive tournament, Aditya Ojha from Bhojpuri Dabanggs emerged as the best batsman of CCL 2023. The Bhojpuri Dabanggs team bonded well as a unit and played entertaining cricket. Bhojpuri Dabanggs' Parvesh Lal Yadav was the only batsman to score a century in CCL 2023. All this was made possible due to the commitment and passion of the team and the support received from the sponsor's MG Lion News.
Captain of the Bhojpuri Dabbangs, Manoj Tiwari Speaking after the game, said "We would like to extend our heartfelt gratitude to MG Lion News for their tremendous support. They believed in us from the very beginning, and their encouragement and backing gave us the confidence to compete at our best. Although we did not win the tournament, we are proud of our efforts, and we know that we could not have achieved what we did without the support of MG Lion News."
Adding to this Bhojpuri film superstar Dinesh Lal Yadav 'Nirahua' said, " Bhojpuri Dabanggs this year played the best, and reached the finals of CCL 2023. We played some lovely cricket and had great fun. We are grateful for the support and encouragement received from our sponsor, the legendary MG Lion News, who took great care of the entire team and provided the fans of Bhojpuri Dabanggs with regular updates."
MG Lion News has been a great support system for the team, providing all the news updates and updates on the team's performance throughout the tournament. Their constant support and encouragement have marked a new benchmark for the team Bhojpuri Dabanggs, and the team is grateful for their association. Despite the loss, the Bhojpuri Dabbangs demonstrated their fighting spirit and commitment to their fans and sponsors. Bhojpuri Dabbangs and MG Lion News look forward to continuing their partnership and building on their success in future tournaments.
साभार :
---
© CopyRight Pressnote.in | A Avid Web Solutions Venture.