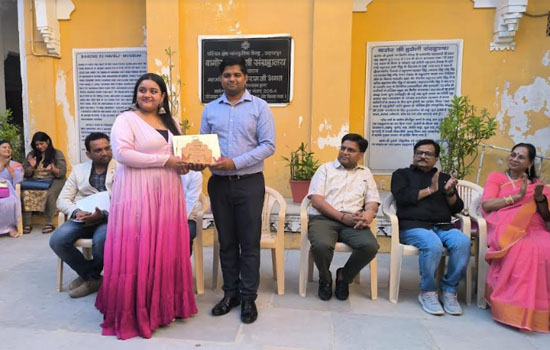 Udaipur. District Information and Public Relations Officer Pravesh Pardeshi and well-known Architecture Abhenav Mantri inaugurated the art exhibition organized by Ahmedabad's Saptrangi Sansthan at Bagore Ki Haveli in the city on Friday.
Many veteran artists were present, including Kiran Thakkar and Sudhir Thakkar, founder of Saptarangi Sansthan. The guests also distributed moments and certificates to the artists.
Addressing the program, Pardeshi said that art adds color to life and is a beautiful medium to enhance the beauty of any place. Udaipur has immense possibilities for artistic creation, and this city is a unique confluence of history and modernity which has always been given a top place to artists.
Similarly, the Innovation Minister said that the art gallery set up by the painters in Bagore Ki Haveli in Udaipur is beautiful, and he is grateful to Saptrangi Sanstha for organizing this event.
Craftsman Hemant Joshi said that in today's competitive era, artists must make their own place; the better your creations, the more your demand will be. Similarly, Kulin Patel, Bipin Chandra Patel, Nayana Mewada, Kiran Thakkar, Sudhir Thakkar, etc., expressed their views. Sudhir Thakkar of Saptrangi Sansthan expressed gratitude to all.
Well-known painters Ajay Chowdhary (IPS), interior designer Kulin Patel, cartoonist Dilip Dave, Hansa Patel, Nayana Mewara, Bipin Chandra Patel, Dipal Rathore, Jai Gangadiya, Manmeet Kalwani, Meena Kumari Damre, Meha Patel, Mittal Pictures of Chaudhary, Nayonika Bakshi, Nikita Patel, Niti Buch, Nripesh Shah, Dr. Pal Shah, Paresh Mewada, Prema Mankodi, Pramila Kahalya, Rajneesh Bakshi, Reema Shah, Seema Jain, Shayari Mandal, Sudhir Thakkar, and Supriya Singh have been placed. On this occasion, painters Chitrasen, Chetan Audichya, Hemant Mehta, etc., were also present.

साभार :
---
© CopyRight Pressnote.in | A Avid Web Solutions Venture.