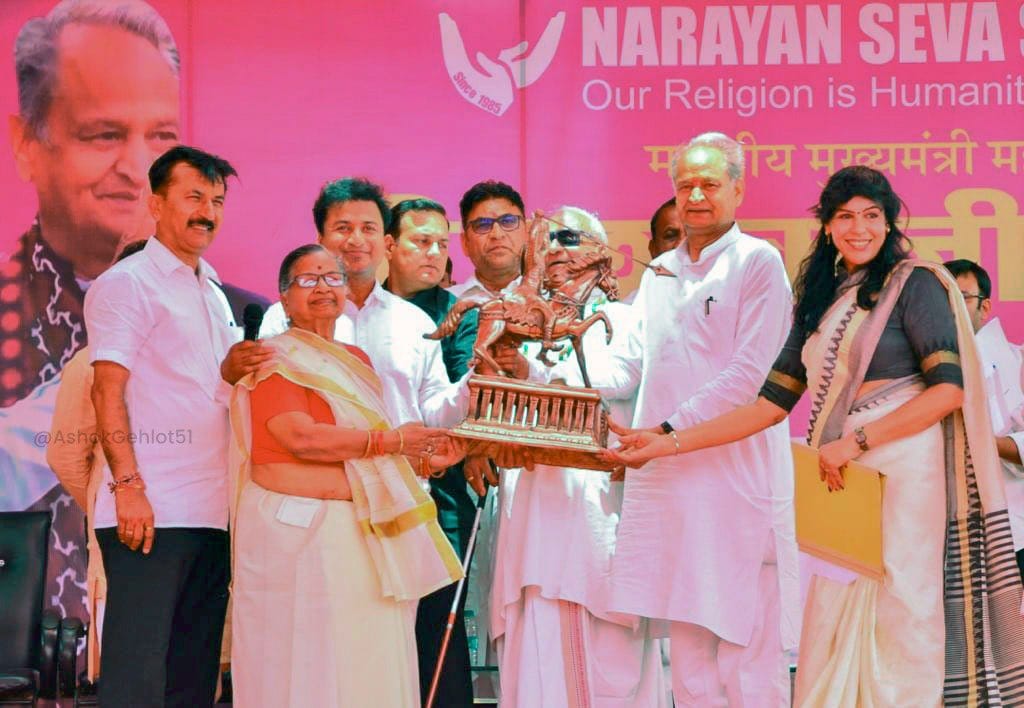 Udaipur. Chief Minister Ashok Gehlot said that the state government is working on several schemes to serve and help the disabled with the resolution of Nirogi Rajasthan. The establishment of Divyang Vishwavidyalaya in Jaipur will contribute a lot to their all-round development. On Monday, he inaugurated the state-of-the-art artificial limb distribution camp for Divyangjan in the Sector 4 campus of Narayan Seva Sansthan. Artificial limbs, hands, and feet were provided to more than 100 Divyangs.
The Chief Minister said that the country had become polio-free in 2014. Still, before that, Narayan Seva Sansthan was doing better work in employing polio-affected youth and treating children born with congenital deformities. Even during the severe famine in the state, this institute continuously worked in urban and rural areas. In the last 25 years, I have had the opportunity to visit and visit their aid camps. The state government is always ready to help such institutions.
The Chief Minister said that meeting and interacting with Divyangjan gives them a direction to do something new, which offers a lot of relief. By getting a tricycle, wheelchair, scooty, and other accessories to the Divyangs, the desire to live with enthusiasm and enthusiasm awakens in them. The Chief Minister blessed Divyang Jaya Mahajan, who had drawn a live rangoli of his portrait, by placing his hand on her head and announced to give her a scooty on behalf of the state government. In the program, Jagdish Patel, suffering from polio in both legs, presented an attractive dance performance on the Rajasthani song 'Dhanyavad Jananayak Ashok Gehlot, Mahagai Su Rahat Dirai' in a wheelchair.
The Chief Minister also observed various employment-oriented pieces of training being run for the disabled and special classes for deaf-mute children. In the beginning, the founder of the institute, Padmashree Kailash 'Manav,' while welcoming the Chief Minister, presented a statue of horseman Maharana Pratap. President Prashant Agarwal, co-founder Kamla Devi, and director Vandana Agarwal presented him with a congratulatory letter by covering him with a shawl and a blanket. Moderated by Aishwarya Trivedi.
During this, former Education Minister Govind Singh Dotasara, Revenue Minister Ramlal Jat, Tribal Minister Arjun Singh Bamania, former Union Minister Dr. Girija Vyas, former MLA Sajjan Katara, Director of Heritage and Conservation Authority Manohar Lal Gupta, Divisional Commissioner Rajendra Bhatt, District Collector Tarachand Meena, I.G. Ajaypal Lamba, S.P. Vikas Sharma, ADM Prabha Gautam, Deputy Director Social Justice Mandhata Singh, Pankaj Sharma, Gopal Sharma, Vivek Katara, etc. were also present.

साभार :
---
© CopyRight Pressnote.in | A Avid Web Solutions Venture.