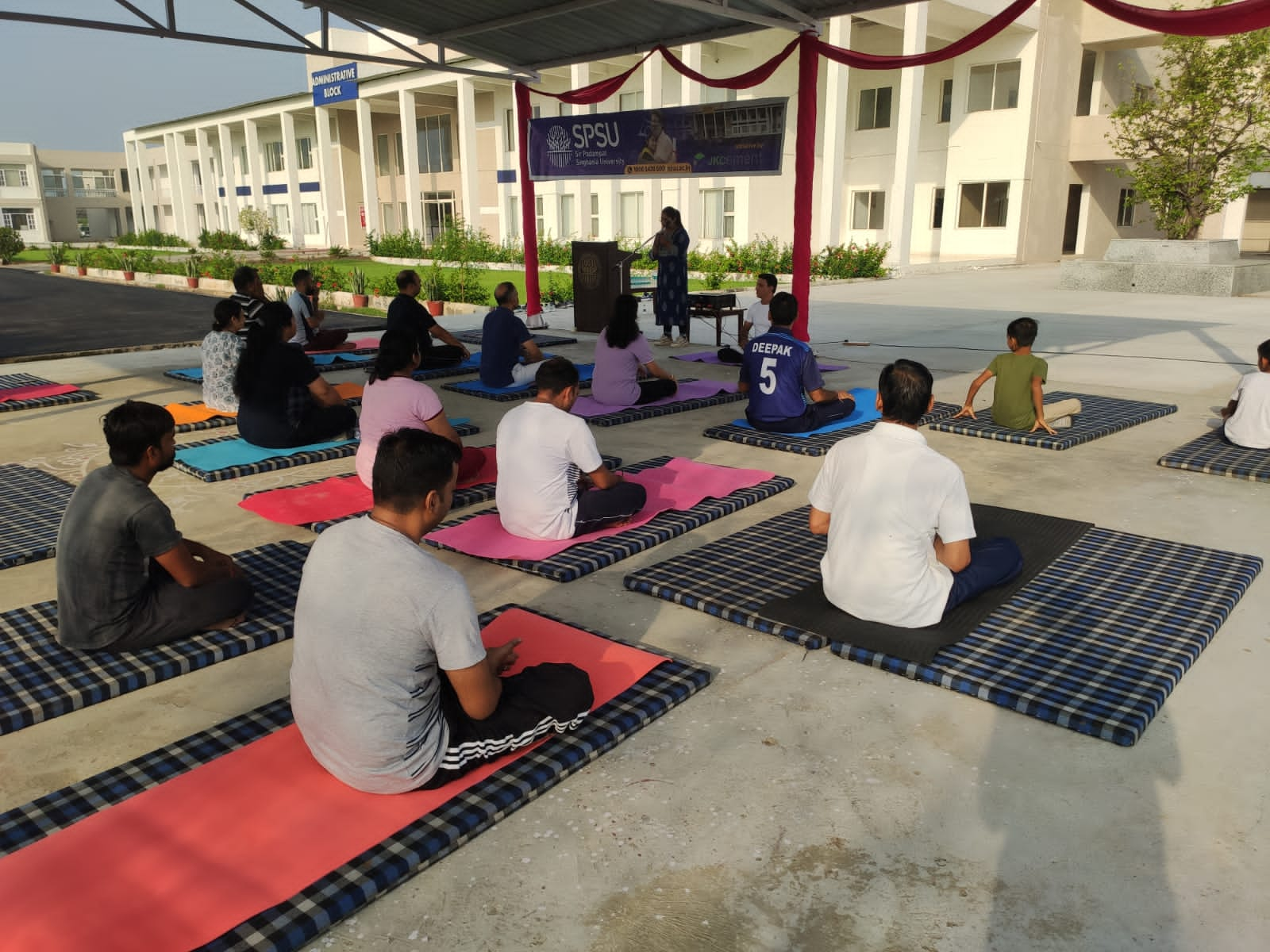 Highlighting yoga's universal appeal and its ability to transcend boundaries Sir Padampat Singhania University, Udaipur, celebrated International Yoga Day with great fanfare on June 21, 2023. The day witnessed a myriad of yoga sessions, workshops, and demonstrations, each highlighting the diverse practices and styles that make up this ancient discipline. The Honourable President and Vice Chancellor of the University, Prof.(Dr.) Padmakali Banerjee has always encouraged the potential of Yoga to remove stress, improve flexibility, and enhance mental clarity, making it a valuable tool in the pursuit of holistic well-being. Prof. Deepak Vyas, the Proctor, welcomed the guests. Guneet Monga Bhargava, Director Dynamic Yoga Studio and Ms Richa Talreja. Col.(Dr.) Sanjiv Tomar, Pro Vice-Chancellor, reiterated the significance of yoga as a transformative practice for both individuals and communities.
In the workshop 'Yoga for Modern Life Style' by experienced yoga instructor Dr Guneet Monga Bhargava, the participants immersed themselves in a series of yoga sessions featuring a variety of poses, breathing exercises, and meditation techniques. The tranquil environment and soothing music created an ambience conducive to relaxation and self-reflection. By promoting physical fitness, mental equilibrium, and a sense of inclusiveness, this global celebration reaffirmed the timeless relevance of yoga in promoting overall well-being. The event left participants feeling rejuvenated, centred, and inspired. Deans, Faculty Members and the entire SPSU fraternity participated actively in the celebration. The event was coordinated by Dr Deepak Vyas, Dr Monika Anand, Dr Shibani Banerjeeand Dr Archana Gajbaye.
साभार :
---
© CopyRight Pressnote.in | A Avid Web Solutions Venture.