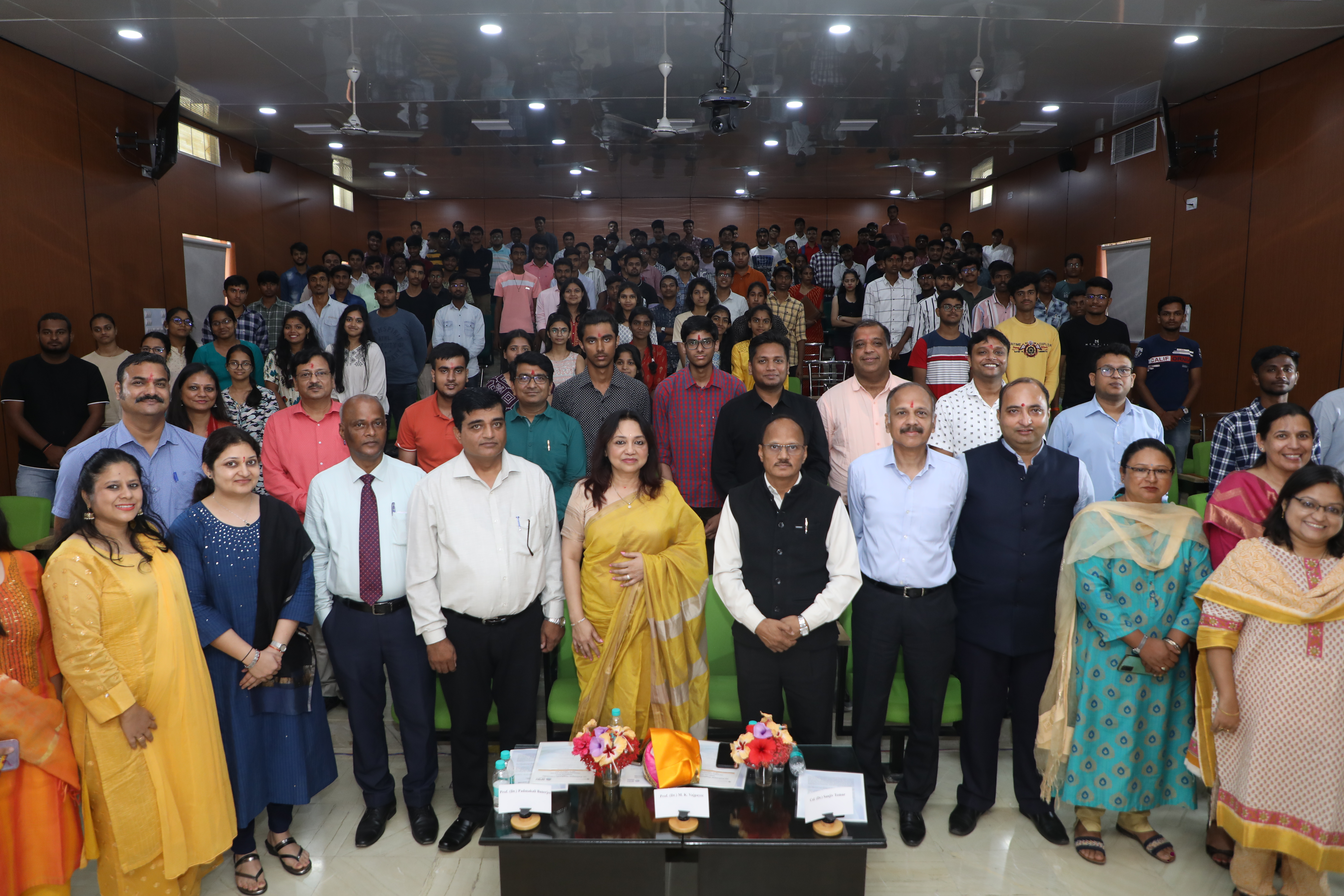 The Orientation Programme 'Sangyaan 2023' at Sir Padampat Singhania University, Udaipur, commenced with an auspicious Vedic Havan, seeking the blessings of the Almighty. The Honourable Vice Chancellor and President of SPSU, Professor Dr Padmakali Banerjee, lit the ceremonial lamp and delivered an inaugural address highlighting the legacy of JK Cement and its significant socio-economic contributions to the nation. She encouraged the youth to adapt to the dynamic environment and embrace a robust, innovative approach to excel in today's world. She stated that SPSU, an industry-led progressive university with strong corporate alliances, fosters a culture of innovation, creativity, and out-of-the-box thinking. The university's curriculum, Centers of Excellence, Incubation Centre, and industry-integrated teaching methods align with its core values represented by the CREATE (Collaborative EntRreneurial Excellence InnovAtionSusTainablePurposEful).
She urged the students to actively participate in curricular and co-curricular activities and engage in social awareness programs to ensure their all-round development and holistic well-being. Commending the positive mindset of the young minds, she encouraged them to become change agents and contribute to building a sustainable and inclusive world.
Prof. (Dr.) M.K. Vajpayee, Senior Advisor, SPSU motivated the students with his words of wisdom. Col. (Dr.) SanjivTomar, Pro President, Dr. SadanandaPrusty, Dean School of Management, Dr. Arun Kumar, Dean School of Engineering and Registrar Dr. Naveen Kumar shared their insights and enthused the students to be the precursors of positivity, success and development.
The orientation focussed on helping the students adapt to college life and prepare them for the challenges and opportunities. Through an array of engaging activities such as LAN gaming, Micro Labs- where the students immersed themselves in hands-on experiments, and Ice-breaking sessions, the orientation programme strengthened the camaraderie amongst the students. Beyond the academic insights and exciting activities, the orientation programme brought something much deeper - a sense of belonging. The event was coordinated by Prof. SadanandaPrusty, Dean of the School of Management, Dr Monika Anand, Deputy Dean of Student Welfare and Dr Deepak Vyas. Dr Shibani Banerjee, Director of Public Relations, was the master of ceremony, and the vote of thanks was given Dr Shweta Lalwani, Head of the School of Management.
साभार :
---
© CopyRight Pressnote.in | A Avid Web Solutions Venture.