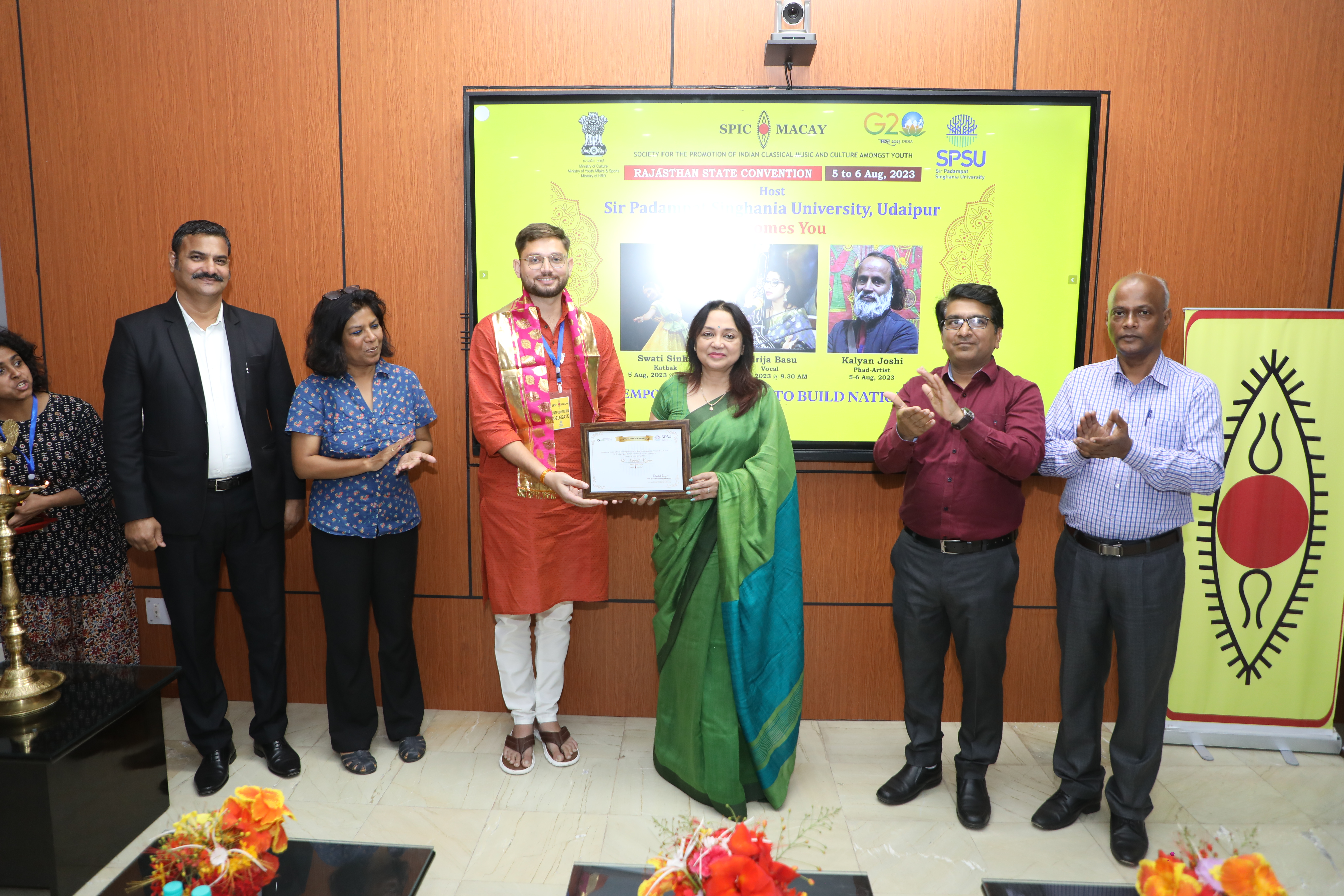 Udaipur: The Society for the Promotion of Indian Classical Music and Culture Amongst Youth (SPIC MACAY) has successfully inaugurated a two-day State Convention on August 5th and 6th, 2023, at Sir Padampat Singhania University, Udaipur. The event witnessed diverse cultural activities, including classical dance, vocal music, and craft workshops.
Providing comprehensive insights, Kailash Paliya, a member of the National Executive Committee, elucidated that the primary objective of the two-day State Convention was to establish new SPIC MACAY chapters in the newly developed districts of Rajasthan. The convention outlined the roadmap for upcoming initiatives and appointed coordinators for the new chapters. The event's highlights included mesmerizing performances such as a captivating Kathak dance by the esteemed artist Swati Sinha from Delhi, enchanting Hindustani classical music by Adrijaa Basu from Kolkata, and an engaging painting workshop by the acclaimed artist Kalyan Joshi from Bhilwara.
Dr. Padmakali Banerjee, the Vice-Chancellor, articulated the university's commitment to creating a permanent center for SPIC MACAY within Sir Padampat Singhania University. This visionary move is poised to significantly contribute to disseminating and promoting Indian classical music among the younger generation.
R.M. Tiwari, the National President of SPIC MACAY, conveyed from Delhi that the university, under the guidance of Dr. Padmakali Banerjee, is successfully shaping an avenue for comprehensive education. This holistic approach promises substantial societal benefits and marks a transformative endeavor. Padma Shri Kiran Seth, the trailblazing founder of SPIC MACAY, underscored in his message that this initiative is instrumental in nurturing Indian classical music among youth. He lauded the university's pivotal role in advancing this noble cause.
साभार :
---
© CopyRight Pressnote.in | A Avid Web Solutions Venture.