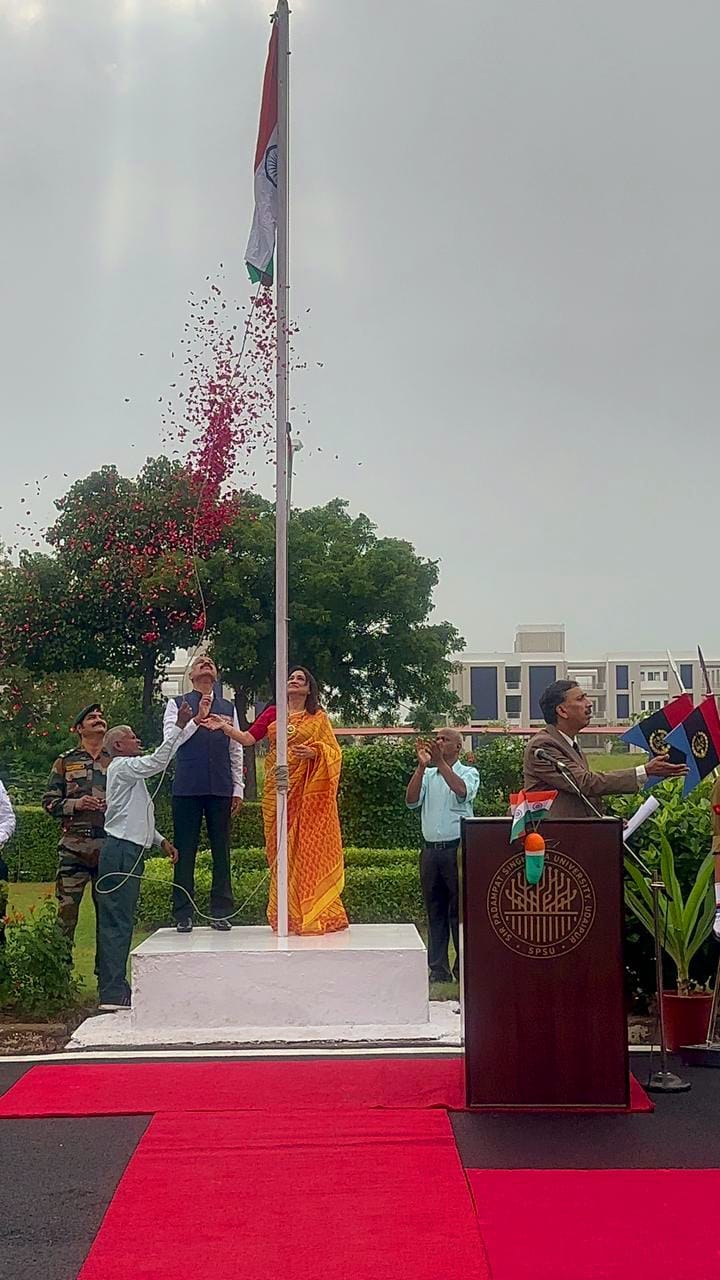 The vibrant student led, technologically driven splendid campus of Sir Padampat Singhania University, Udaipurresonated with patriotism as the National Flag was hoisted by theHonourable Vice Chancellor and President Prof. (Dr.) Padmakali Banerjee on the 77th Independence Day Celebration. The Honourable Vice Chancellor in her speech highlighting the transformative journey of the corporate led University briefed about the milestones,achievements, initiatives and the way the University has transcended as a new age learning University. She emphasized the struggles and sacrifices of the freedom fighters and also applauded the legacy of JK Cement and top management Dr. Nidhipati Singhania, Dr. Raghavpat Singhania, Mr. Madhav Krishna Singhania and their contribution towards Nation building. Stressing on Indian Independence @ 100 and celebrating 'Azadi ka Amrit Mahotsav' she focussed on India's global prominence and thecountry's rapid strides at the economic, social, sustainable, digital and technological domains and the pivotal role of the Higher Education institutions towards holistic development of the students, youth engagement, equipping them with the knowledge and skills that contribute to the country's evolution. She commended the potential of the youth in propelling the nation's growth and referring them as trailblazers andchange makers of modern India urged them to harness their innovative ideas and participate activelyin the advancement of the country. She also accentuated the urgent need for eco-friendly practises to combat climate change, reduce carbon footprints and exemplified the university's commitment to this cause through initiatives such as the integration of electric vehicles and establishment of a clean and sustainable campus.
The University'simplementationof 'Meri MaatiMeraDesh Campaign' included tree plantation, pledge ceremony focusing on self-reliance and celebrating the National heritage. Various cultural programmes highlighting the Nation's pride and unity in diversity were showcased by the students of the University. The Honourable Vice Chancellor and President Prof.(Dr.) Padmakali Banerjee was joined by the officials of the University including the Pro President Col.(Dr.) Sanjiv Tomar, Registrar Dr. Naveen Kumar, Proctor Dr. Deepak Vyas, Deans, Head of the Depts, NCC cadets, faculty members and entire SPSU fraternity in the Independence Day Celebration.
साभार :
---
© CopyRight Pressnote.in | A Avid Web Solutions Venture.