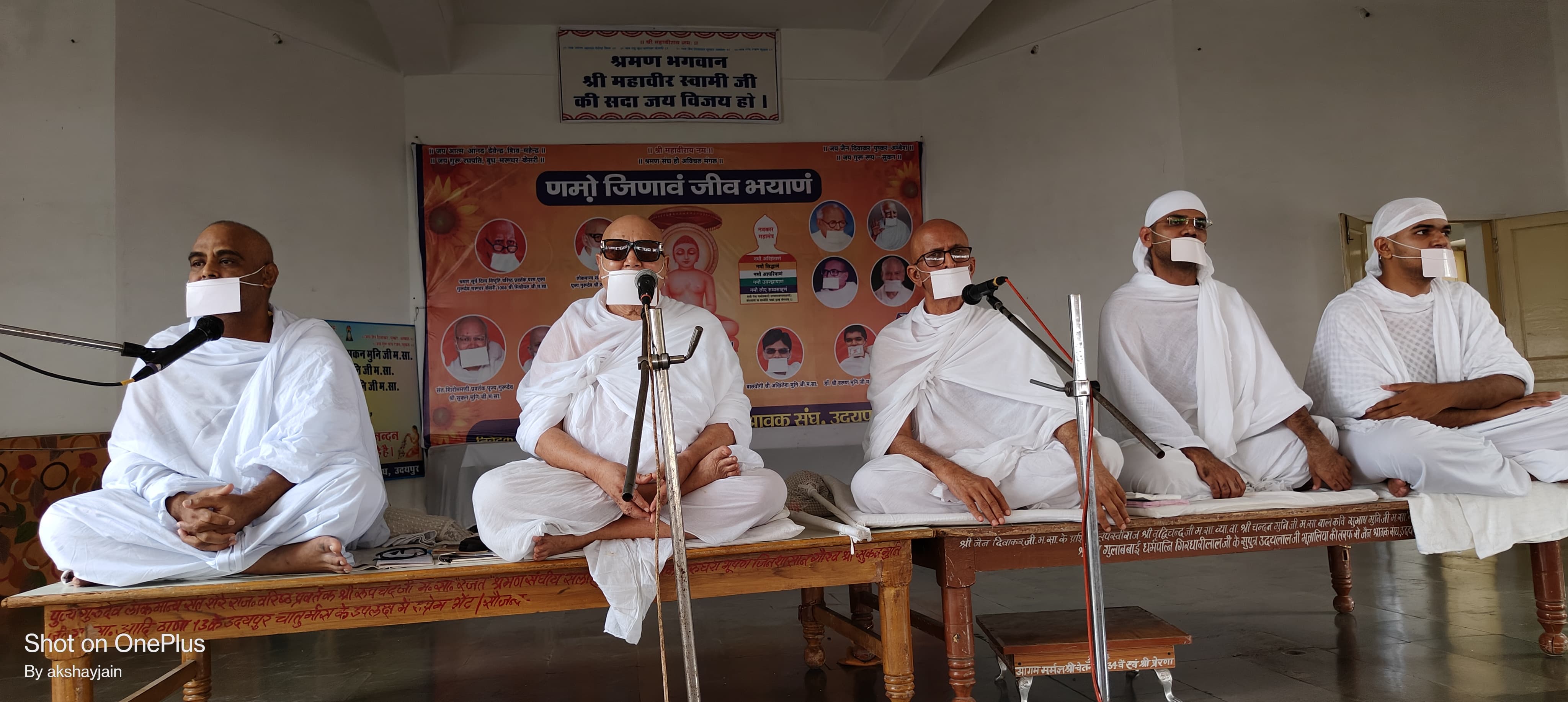 Udaipur: The Jain community in Sindhi Bazaar, under the auspices of Shri Vardhaman Sthanakvasi Jain Sangh, celebrated the final day of the Paryushana Parva as Samvatsari Day. Advocate Roshan Lal Jain, the Maha mantra, shared that on the concluding day of the Paryushana Parva, a large number of devotees gathered at Panchayati Nohare and sought blessings from Muni Sukun Ji Maharaj.
During the Paryushana Parva, continuous religious rituals and worship have occurred among the faithful. Jain encouraged all the followers to take maximum advantage of the religious teachings in the upcoming days and events.
In the religious assembly, the saintly Munis also humbly sought forgiveness from everyone through Man, Vachan, and Karm for any mistakes or wrongdoings committed over the past year. The leaders and followers of the Shraman Sangh and Shravika Sangh also begged for forgiveness and expressed repentance for any errors or faults in their thoughts, words, or deeds over the past year.
A recitation of the concluding verses of the Antagada Sutra Mahagranth by Muni Varun marked the closure of the Paryushana Parva.
On the final day of the Paryushana Parva, Samvatsari Mahaparva, Muni Sukun Ji Maharaj emphasized the significance of forgiveness. He mentioned that forgiveness purifies the soul, and it is the adornment of the brave. He likened the importance of forgiveness to nourishing the body, without which the body becomes weak. Similarly, the soul within us requires the nourishment of religious worship to maintain its purity, and this is why the Paryushana Parva is celebrated.
He urged everyone to ask for forgiveness with an open heart and advised against harboring the thought that someone else should take the first step before seeking forgiveness. Those who bend down first are the ones the world remembers, and all cherish humility. Thus, during this Samvatsari Mahaparva, openly seeking forgiveness through the words of Michhami Dukkadam helps purify the soul.
Throughout the eight days of the Paryushana Parva, everyone has followed self-purification through prayer and reflection. In the assembly, all Munis expressed their repentance through their teachings and the recitation of Michhami Dukkadam, embodying the spirit of forgiveness.
"Samvatsari Mahaparva is the grandest celebration of our religion, and it serves as the foundation of our faith's pride. Such a celebration is unparalleled elsewhere. It is a time to cleanse our inner selves and purify our souls through sincere repentance and forgiveness," Muni Sukun Ji Maharaj emphasized.
The Paryushana Parva, focusing on forgiveness and spiritual growth, serves as a profound and meaningful observance in the Jain tradition.
साभार :
---
© CopyRight Pressnote.in | A Avid Web Solutions Venture.